PROGRAM OVERVIEW
This Post Graduate Program is designed for graduates in any discipline and experienced professionals from programming and non-programming backgrounds. The program is based on an Applied Learning approach that uses a combination of self-paced videos, live virtual classes, hands-on projects, and labs.Students also have access to mentorship sessions, providing a high-engagement learning experience and real-world applications to help master essential Cyber Security skills. At the end of this program,learners will understand the main principles of Cyber Security and how they are implemented in an Enterprise Environment Across - On premises and Cloud Platform like Microsoft Azure, AWS, Google Cloud Platform.
This program will enable students to demonstrate their knowledge
Implement technical strategies, tools, and techniques to secure data and information for your organization
Adhere to ethical security behaviour for risk analysis and mitigation
Understand security in cloud computing architecture in depth
Comprehend legal requirements, privacy issues and audit process methodologies within the cloud environment
Focus on IT compliance and the integrity of enterprise systems to establish a more secure enterprise IT framework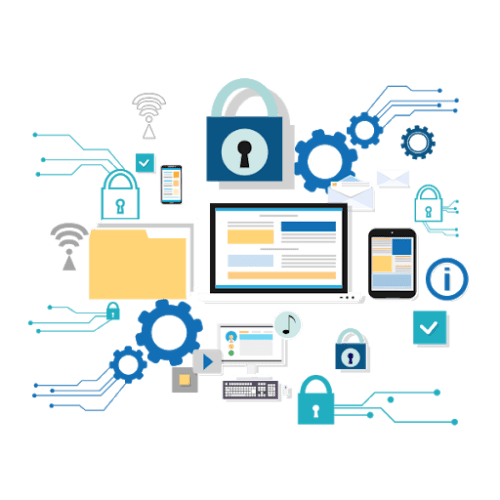 Through this 12-month-long Virtual Online Live Post Graduate program, learners start their journey from foundational, intermediate, and advanced security skills through industry-leading certification courses,including CompTIA Security+, CEH, CISSP and Cloud Security. The program begins with introductorylevel cyber security skills training, then progresses to advanced cybersecurity technologies such as reverse engineering, penetration testing techniques, and many more. Certified by Berlin International University, with industry partner Vepsun, this immersive, guaranteed placement*. The program is taught by the best minds in the industry where students get hands-on learning experience in Cyber Security Cloud labs that are equipped with the latest analytics software & applications.
ABOUT Berlin UNIVERSITY
Students from 73 nations are studying at Berlin International University of Applied Sciences. Berlin International is part of a global network that allows students to travel and pursue their studies in different locations.
Berlin International facts

85 different nationalities are studying and teaching at Berlin International
68% of our students are international and from four continents
84% of our teaching staff have studied or worked at international universities
100% personal contact to Professors and Lecturers

BAU Global Network. BAU Global operates at 3 continents in 7 countries and includes 5 universities - Istanbul, Washington, DC, Berlin, Cyprus and Batumi, 2 language schools and 5 academic centers.
These students come from about 60, our lecturers from 15 different countries.
The BAU university was founded in 2014 and is already one of the top universities in Germany.
Over 1000 corporate collaborations in Germany, including Allianz, AOK, Bertelsmann, BP, Deutsche Telekom, Ford, IBM, City of Munich, Peek & Cloppenburg Vienna, Siemens, thyssenkrupp.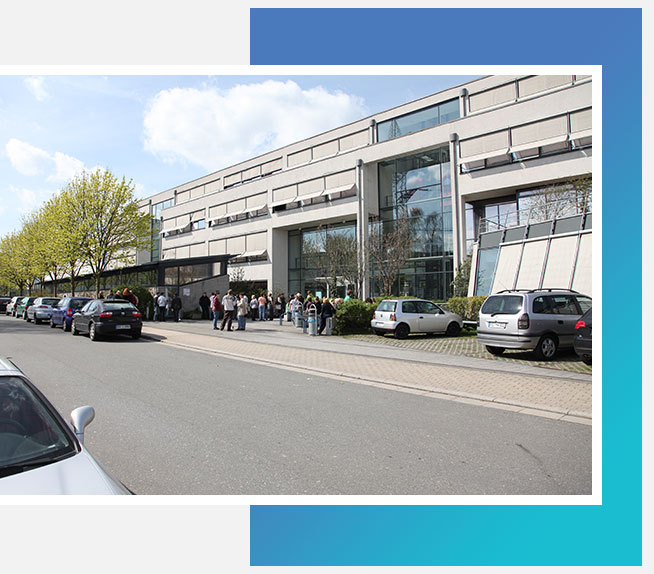 ABOUT VEPSUN
The fast pace of innovation and business today requests a learning approach that fits the necessities of both the individual and the organization. We built a learning system to reflect that need. Adapting today requires a guided methodology through the intricate number of formal and casual learning alternatives. It requires a methodology that envelops the top learning techniques utilized today and adjusts them to help hierarchical results.

Our learning ecosystem is designed to support how learning is done today and evolves to meet advances in technology and individual learning needs. Integrating the world's largest collection of proprietary and IT partner content, resources, and expertise with a global instructor pool of more than 300 real-world experts, Vepsun Technologies delivers custom learning to global organizations no matter where their workforce is located to drive quantifiable results.
Designed for Working Professionals/Students
Instructor-led Sessions
Dedicated Student Success Manager
Real-life Case Studies
Lifetime Access
1-on-1 Industry Mentor
Career Assist
Assignments
Certification
Syllabus
Introduction to Cybersecurity (40 Hours)
Vepsun's Introduction to Cyber Security course for beginners is designed to give you a foundational look at today's cybersecurity landscape and provide you with the tools to evaluate and manage security protocols in information processing systems.
Key Learning Objectives
Course curriculum
Lesson 1 - Course Introduction
Lesson 2 - Cybersecurity Fundamentals
Lesson 3 - Enterprise Architecture and Components
Lesson 4 - Information System Governance and Risk Assessment
Lesson 5 - Incident Management
Design systems to secure applications, networks, & device (60 Hours)
This course will enable learners to gain knowledge and skills required to install and configure systems to secure applications, networks, and devices; perform threat analysis and respond with appropriate mitigation techniques; participate in risk mitigation activities; operate with an awareness of applicable policies, laws, and regulations. Upon successfully validating their skills by passing the certification exam learners will be able to perform these tasks to support the principles of confidentiality, integrity, and availability. CompTIA Security+ meets the ISO 17024 standard and is approved by the U.S.
Module: Statistical Techniques for Data Science (40 hours)
Key Learning Objectives
After completing this course you will be able to:Comprehend risk identification and mitigation Provide operational, information, application and infrastructure level security Secure the network to maintain the availability, integrity and confidentiality of critical information Operate within a set of rules, policies and regulations wherever applicable
Course curriculum
Lesson 1 - Learn about networking, firewalls, LAN security, IDS, NAC, IPSec
Lesson 02 - Understand the principles of security, risk management, data classification, disaster recovery,and forensics
Lesson 03 - Comprehend cyber attacks, DNS security, socialengineering fundamentals, buffer overflows,security testing tools usage, honeypots, vulnerability and pen testing
Lesson 04 - Learn how to handle bugs, secure storage platforms and the power grid, how to hack IOT
Lesson 05 - Get familiar with access controls, Kerberos, identity federation, and id governance Lesson
Lesson 06 - Encryption, advanced cryptography, crypto algorithm,PKI, etc are covered in this lesson
Build a hacker mindset and defend against future attacks (60 Hours)
This Vepsun's course provide hands-on classroom training to help you master the same techniques that hackers use to penetrate network systems and leverage them ethically to protect your own infrastructure.The extensive course focuses on 20 of the most popular security domains to provide a practical approach to essential security systems.
Key Learning Objectives
After completing this course you will be able to:Ace the CEH practical exam Learn to assess computer system security by using penetration testing techniques Scan, test and hack secure systems and applications, and gain hands on experience with sniffing,phishing and exploitation tactics
Course curriculum
Module 01: Introduction to Ethical Hacking - Overview of information security, threats, attack vectors,ethical hacking concepts, information security controls, penetration testing concepts, and information security laws and standards are covered in this module
Module 02: Footprinting and Reconnaissance - These modules coverconcepts and types of footprinting,footprinting through search engines, web services, and social networking sites, footprinting tools,countermeasures, and footprinting pen testing
Module 03: Scanning Networks - Learn about network scanning concepts, tools and techniques, network diagrams, and scanning pen testing
Module 04: Enumeration - Enumeration concepts, types, techniques, and pen testing are covered in this module
Module 05: Vulnerability Analysis - Overview of vulnerability assessment concepts, solutions, scoring systems, tools, and reports are explained in this module
Module 06: System Hacking - Learn how to crack passwords, hide files, cover tracks, any many more
Module 07: Malware Threats - This module gets you familiar with malware concepts, trojan concepts,malware analysis, countermeasures, malware penetration testing
Module 08: Sniffing - Sniffing concepts, tools, and techniques are explained in this module
Module 09: Social Engineering - Comprehend social engineering concepts, techniques,countermeasures, and pen testing
Module 10: Denial-of-service - Dos/DDoS concepts, techniques, tools, case studies, and penetration testing are covered in this module
Module 11: Session Hijacking - Know what is session hijacking and its types, tools, countermeasures, and session hijacking penetration testing
Module 12: Evading IDS, Firewalls, and Honeypots - Learn about firewalls and honeypots and how to detect and evade them
Module 13: Hacking Web Servers - This module focuses on web server concepts, attacks,methodologies, tools, countermeasures, and penetration testing
Module 14: Hacking Web Applications - Web app concepts, tools, methodologies, countermeasures, and penetration testing are covered in this module
Module 15: SQL Injection - Get familiar with SQL Injection concepts,types, tools, methodologies,countermeasures, and penetration testing
Module 16: Hacking Wireless Networks - Wireless concepts, threats, methodologies are covered in this module
Module 18: IoT Hacking - This module covers IoT Hacking concepts, attacks, methodologies, tools,countermeasures, and penetration testing
Module 19: Cloud Computing - Concepts, attacks,methodologies, tools, countermeasures, and penetration testing of cloud computing are covered in this module
Module 20: Cryptography - This module will teach you about cryptography concepts, encryption algorithms, tools, PKI, types of encryption, cryptanalysis, and countermeasures
Design, engineer and manage the overall security posture of an organization (140 hours)
This Vepsun's course is aligned with the (ISC)2 CBK 2018 requirements. The course trains you in the industry's latest best practices, which will help you pass the exam in the first attempt. The certification helps you develop expertise in defining the architecture and in designing, building, and maintaining a secure business environment for your organization using globally approved Information Security standards.
Key Learning Objectives
After completing this course you will be able to:Be able to define the architecture, design and management of the security of your organization.
Acquire the relevant knowledge and skills required to pass the CISSP certification exam.
Earn the requisite 30 CPEs required to take up the CISSP certification exam
Develop working knowledge in the 8 domains prescribed by the CISSP Common Book of Knowledge,2018
Course curriculum
Lesson 00: Introduction to CISSP - Overview of CISSP, CISSP Exams, ISC2 is covered in this lesson
Lesson 01: Security and Risk Management - Information security management, risk analysis, legal systems, IP laws, BCA, CIA, etc are covered in this lesson
Lesson 02: Asset Security - Learn how to classify information, protect privacy, maintain ownership,establish handling requirements
Lesson 03: Security Engineering - Understand security engineering processes using secure design principles, Architecture Frameworks, Security Models Evaluation Criteria, Distributed Systems, and many more
Lesson 04: Communications and Network Security - Learn how to secure network architecture, design,components, and communication channels
Lesson 05: Identity and Access Management - Implement and manage authorization mechanisms to prevent or mitigate access control attacks
Lesson 06: Security Assessment and Testing - Learn how to design and validate assessment and test strategies
Lesson 07: Security Operations - Understand and support requirements for investigations by implementing resource protection techniques and incident response
Lesson 08: Software Development Security - Comprehend the system life cycle and system development in this lesson
AWS Certified Security-Specialty (100 hours)
Cloud Security Introduction
Cloud Security fundamentals
AWS security model
Shared Responsibility
Exam Outline
Incident Response
Given an AWS abuse notice, evaluate the suspected compromised instance or exposed access keys.
Mitigation steps to perform Incident response steps
Verify that the Incident Response plan includes relevant AWS services.
Dealing with exposed access keys
Evaluated suspected compromised EC2 Instances
Evaluate the configuration of automated alerting, and execute possible remediation of securityrelated incidents and emerging issues.
AWS Guard duty
Penetration testing
Logging and Monitoring (VPC)
Design and implement security monitoring and alerting.
Design and implement a logging solution.
Continuous Security Monitoring
Introduction to Vulnerability Assessment
AWS Inspector
AWS Inspector Assessment targets
AWS EC2 systems manager
AWS Config
Understanding CloudWatch
VPC Flow Logs
CloudWatch Events
AWS Cloud Trail
AWS Macie
AWS Detective
AWS Security Hub
S3 Event notifications
Trusted advisor recommendations
Troubleshoot security monitoring and alerting.
Troubleshoot logging solutions.
Infrastructure Security
Design edge security on AWS.
Design and implement a secure network infrastructure.
AWS Organizations
Managing OUs
CloudFront
AWS CloudFront Custom SSL
Firewalls
Security groups
Network ACLs
IPS/IDS concepts in cloud
AWS Web Application Firewall (WAF)
AWS Shield concepts
DDoS Mitigation
Network Segmentation
Bastion Hosts
Virtual Private Cloud (VPC)
VPC Endpoints
EC2 Tenancy
Compliance Frameworks
AWS lambda fundamentals
AWS Simple Email Service
AWS Route53 DNS
Troubleshoot a secure network infrastructure
Design and implement host-based security
Microsoft Azure Security Technologies (AZ-500) (100 hours)
Identity and Access
Lessons
Configure Azure Active Directory for Azure workloads and subscriptions
Configure Azure AD Privileged Identity Management
Configure security for an Azure subscription
Platform Protection
Lessons
Understand cloud security
Build a network
Secure network
Implement host security
Implement platform security
Implement subscription security
Security Operations
Lessons
Configure security services
Configure security policies by using Azure Security Center
Manage security alerts
Respond to and remediate security issues
Create security baselines
Data and applications
Lessons
Configure security policies to manage data
Configure security for data infrastructure
Configure encryption for data at rest
Understand application security
Implement security for application lifecycle
Secure applications
Configure and manage Azure Key Vault
Professional Cloud Security Engineer (100 Hours)
Foundations of GCP Security
Understand the GCP shared security responsibility model
Understand Google Cloud's approach to security
Understand the kinds of threats mitigated by Google and by GCP
Define and Understand Access Transparency and Access Approval (beta)
Cloud Identity
Cloud Identity
Syncing with Microsoft Active Directory using Google Cloud Directory Sync
Using Managed Service for Microsoft Active Directory (beta)
Choosing between Google authentication and SAML-based SSO
Best practices, including DNS configuration, super admin accounts
Lab: Defining Users with Cloud Identity Console
Identity, Access, and Key Management
GCP Resource Manager: projects, folders, and organizations
GCP IAM roles, including custom roles
GCP IAM policies, including organization policies
GCP IAM Labels
GCP IAM Recommender
GCP IAM Troubleshooter
GCP IAM Audit Logs
Best practices, including separation of duties and least privilege, the use of Google groups in policies, and avoiding the use of primitive roles
Labs: Configuring Cloud IAM, including custom roles and organization policiesPC
Configuring Google Virtual Private Cloud for Isolation and Security
Configuring VPC firewalls (both ingress and egress rules)
Load balancing and SSL policies
Private Google API access
SSL proxy use
Best practices for VPC networks, including peering and shared VPC use, correct use of subnetworks
Best security practices for VPNs
Security considerations for interconnect and peering options
Available security products from partners
Defining a service perimeter, including perimeter bridges
Setting up private connectivity to Google APIs and services
Lab: Configuring VPC firewalls
Securing Compute Engine: techniques and best practices
Compute Engine service accounts, default and customer-defined
IAM roles for VMs
API scopes for VMs
Managing SSH keys for Linux VMs
Managing RDP logins for Windows VMs
Organization policy controls: trusted images, public IP address, disabling serial port
Encrypting VM images with customer-managed encryption keys and with customer-suppliedencryption keys
Finding and remediating public access to VMs
Best practices, including using hardened custom images, custom
service accounts (not the default service account), tailored API
scopes, and the use of application default credentials instead of user-managed keys
Lab: Configuring, using, and auditing VM service accounts and scopes
Encrypting VM disks with customer-supplied encryption keys
Lab: Encrypting disks with customer-supplied encryption keys
Using Shielded VMs to maintain the integrity of virtual machines
Securing cloud data: techniques and best practices
Cloud Storage and IAM permissions
Cloud Storage and ACLs
Auditing cloud data, including finding and remediating publicly accessible data
Signed Cloud Storage URLs
Signed policy documents
Encrypting Cloud Storage objects with customer-managed encryption keys and with customer supplied encryption keys
Best practices, including deleting archived versions of objects after key rotation
Lab: Using customer-supplied encryption keys with Cloud Storage
Lab: Using customer-managed encryption keys with Cloud Storage and Cloud KMS
BigQuery authorized views
BigQuery IAM roles
Best practices, including preferring IAM permissions over ACLs
Lab: Creating a BigQuery authorized view
Security Applications: techniques and best practices
Types of application security vulnerabilities
DoS protections in App Engine and Cloud Functions
Cloud Security Scanner
Lab: Using Cloud Security Scanner to find vulnerabilities in an App Engine application
Identity Aware Proxy
Lab: Configuring Identity Aware Proxy to protect a project
Securing Kubernetes: techniques and best practices
Authorization
Securing Workloads
Cloud Audit Logging
Securing Clusters
Logging and Monitoring
Protecting against Distributed Denial of Service Attacks
How DDoS attacks work>
Mitigations: GCLB, Cloud CDN, autoscaling, VPC ingress and egress firewalls, Cloud Armor(including its rules language)
Types of complementary partner products
Lab: Configuring GCLB, CDN, traffic blacklisting with Cloud Armor
Protecting against content-related vulnerabilities
Threat: Ransomware
Mitigations: Backups, IAM, Data Loss Prevention API
Threats: Data misuse, privacy violations, sensitive/restricted/unacceptable content
Threat: Identity and Oauth phishing
Mitigations: Classifying content using Cloud ML APIs; scanning and redacting data using Data Loss Prevention API
Lab: Redacting Sensitive Data with Data Loss Prevention API
Monitoring, Logging, Auditing, and Scanning
Security Command Center
Stackdriver monitoring and logging
Lab: Installing Stackdriver agents
Lab: Configuring and using Stackdriver monitoring and logging
VPC flow logs
Lab: Viewing and using VPC flow logs in Stackdriver
Cloud audit logging
Lab: Configuring and viewing audit logs in Stackdriver
Deploying and Using Forseti
Lab: Inventorying a Deployment with Forseti Inventory (demo)
Lab: Scanning a Deployment with Forseti Scanner (demo)
Certification
Executive Program in Cyber Security Technology, Certified by (ISC)²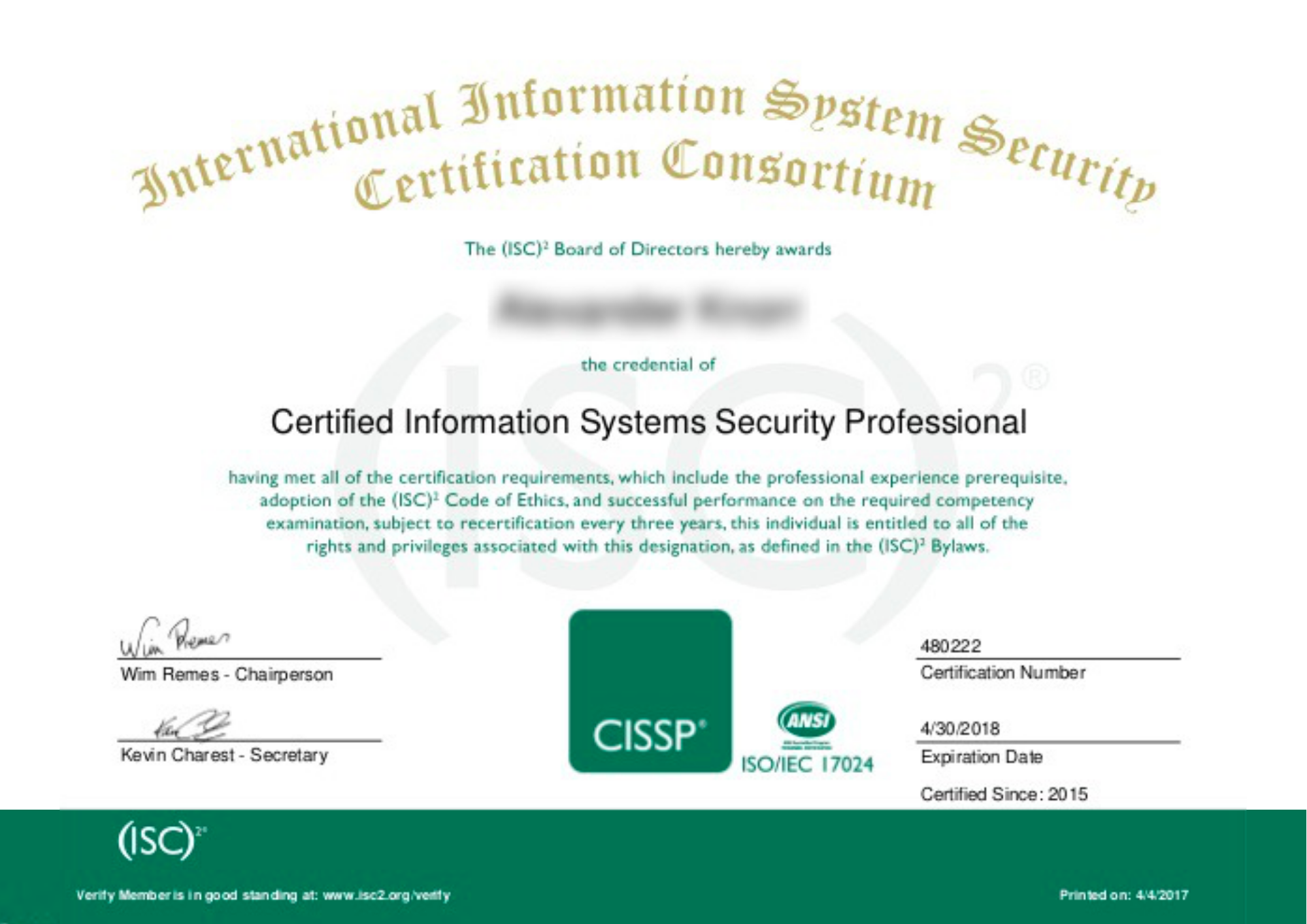 Certification by (ISC)2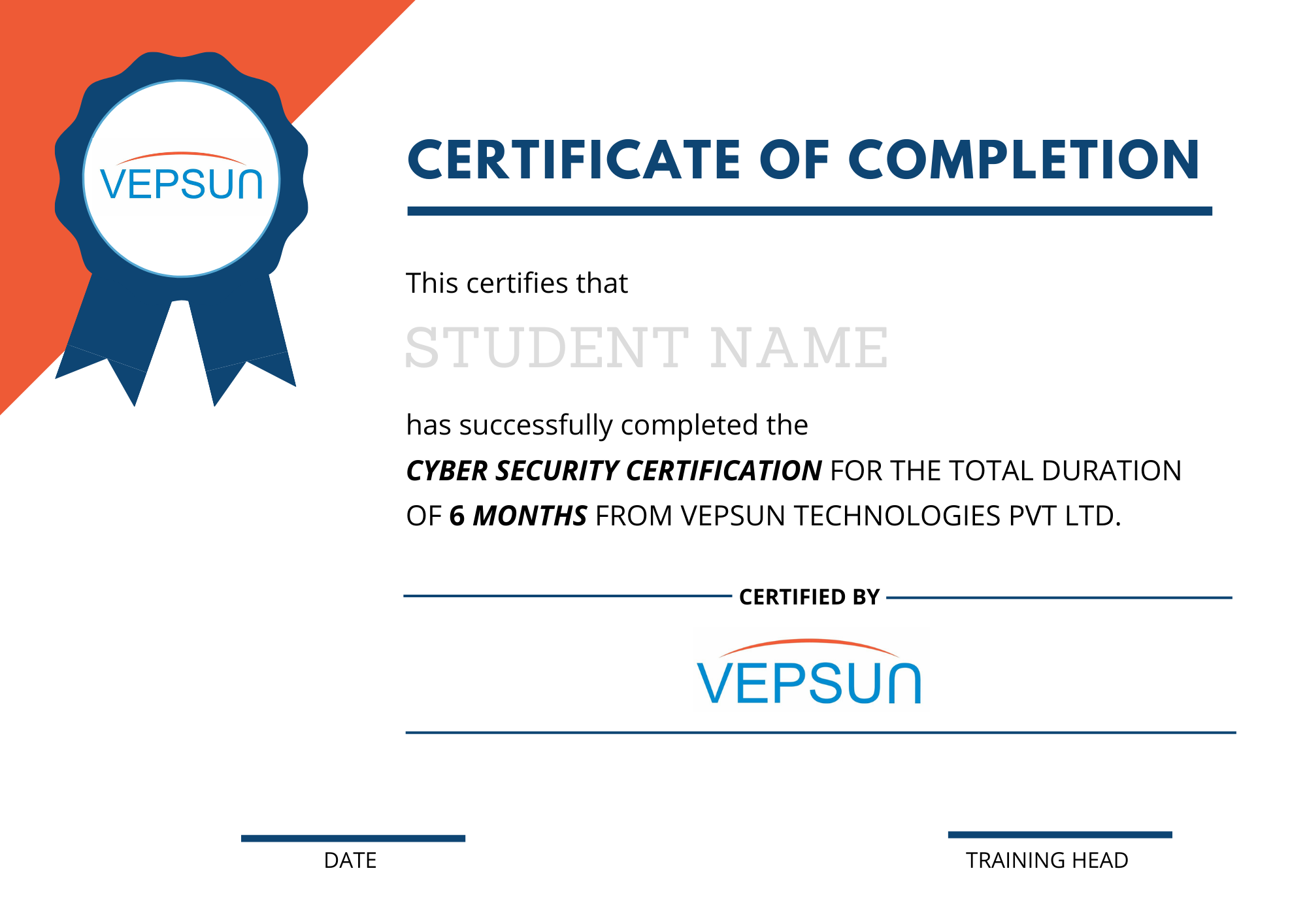 Certification by Vepsun
143000
Happy Clients Our success is Measured by Results.
572000
Projects- Our focus in on Delivering a better content.
12
Years of experience In Imparting Quality Training across Verticals.
38000
Students Placed in Top MNC's
Vepsun Career Assist
WHAT IS CAREER ASSIST?
Career Assist is an integration between Vepsun Technologies and hirist.com to provide career assistance to improve the job search experience & bring you closer to your desired job. With Career Assist, you get a chance to put the gained knowledge towards creating a positive, lifelong impact and move forward into the future with a great deal of opportunities in the area of your interest.
As a part of Career Assist, you will get the Spotlight & Pro-Features for a time period of 6 months. This upgrade on your profile will not only improve your job search experience but also give you multiple benefits like Spotlight and Pro Features.
Program Fee
Cyber Security
INR. 2,50,000*
* Inclusive of all Taxes + gst
Training
Single Certification
Online - live Classes
No Cost EMI Available
EMI Calculator
Note: *The processing fee (1% of the full loan amount) will have to be paid by the student, and the applicant must earn more than Rs. 15,000 per month in order to avail the loan.
Documents required for the EMI Process
| Documents | Description |
| --- | --- |
| Photo | Photo Scanned or Taken by Phone |
| Pan | Scanned or Photo |
| Address Proof ( Any 2) | Aadhar/ Voter ID/ Passport/ DL/ Water Bill/ Piped Gas Bill/ Electricity/ Rent Agreement Franked |
| NACH ( Any 1) | Canceled Cheque/ Bank Statement First Page/ Passbook first page |
| Bank statements ( Any 1) | Salaried - (3 Months), Self Employed (6 months) |
| Income Proof (Any1) | Salaried - Latest Salary Slip, Self Employed - Company Incorporation proof / ITR |
App :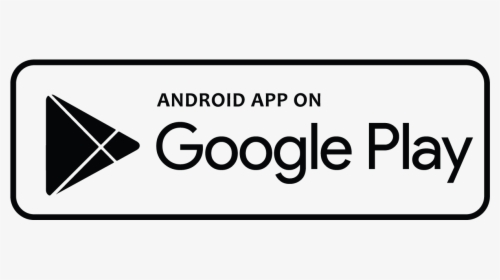 Web : https://eduvanz.com/
Frequently Asked Questions
What is Cyber security?
Cyber security consists of technologies, processes and controls which have been designed to protect businesses and their systems, networks, devices and data from cyber-attacks. Cyber security aims to protect all computer systems from being seriously damaged or leaving the victim with no/limited access to their own confidential files.
What is the average cost of a cyber attack (data breach)?
The Ponemon Institute's 2019 Cost of a Data Breach Study reported The global average cost of a data breach for the 2019 study is $3.92 million, a 1.5 percent increase from the 2018 study. The report also found that the average cost per record is $150.
What are the differences between a cyber incident, cyber attack and cyber threat?
A Cyber security 'incident' is when an attack doesn't result in a breach to the business i.e. is successfully repelled & the company's data isn't compromised. A Cyber security 'attack' is when the businesses firewall has been breached and they have been impacted by it ie they have lost access or confidential data has been leaked etc. A Cyber Security 'threat' is when there is a possibility of a malicious attempt to damage or disrupt a computer network or system.
Types of Cybersecurity
Information Security,Network Security,Application Security
What is spam?
Spam is unsolicited commercial email. It's sent, usually in bulk, through "open-relays" to millions of people. Spam is cost-shifted advertising. It takes a toll on Internet users' time, their resources, and the resources of Internet Service Providers (ISP). Most recently, spammers have begun to send advertisements via text message to cell phones.
Contact Us

We offer most advanced technologies than any other computer and business training company. Businesses and individuals can choose from the course offerings, delivered by experts.
Soul Space Paradigm, 3rd Floor, West Wing, next to Hotel Radisson Blu, Marathahalli, Bengaluru, Karnataka 560037